DRB Dongil Rubber Belt Range:
Poly V belt,Classical Wrapped belt,Raw Edge Cogged belt,Timing belt,Conveyor belt
PK, (Cogged)REC, (Wrapped)ILBAN M, A, B, C, D, E,
( Wedge) SPZ, SPA, SPB, SPC, 3V, 5V, 8V, Timing belt
click & send an product inquiry to IKSONIC team. Email: wingxsonic@gmail.com  Skype ID: wingxsonic    WhatsApp/Mobile/WeChat: +86-13370616532  , +86-15315489052    WeChat: taishanfu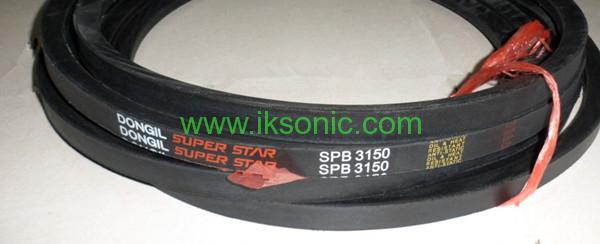 IKSonic company is the sales agent of North of China of Qingdao DRB factory.
Qingdao DRB is the factory of South Korean DRB Dongil Rubber Belt, provides diverse products related to rubber such a Power Transmission Belt, All types of V Belts, Conveyor Belt & System, Rubber Track & Undercarriage, Construction Material, and Seismic Isolation & Vibration Control as manufacturer.
Dongil Rubber Belt
DRB will always work for our customers with experience and know-how gained from more than 70 years of tradition and history since 1945.
We would like to invite you as our member of DRB global business partner, especially, in Middle eastern countries and central African countries.