PTFE Kevlar Mesh Conveyor Belt
PTFE Kevlar® Mesh series is good for heavy-duty applications or in drying applications where there is steam or moisture.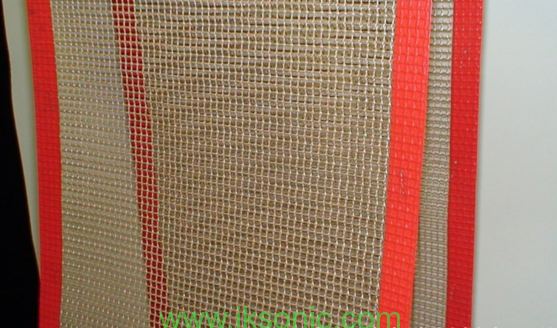 Mesh Kevlar belt PTFE teflon material yellow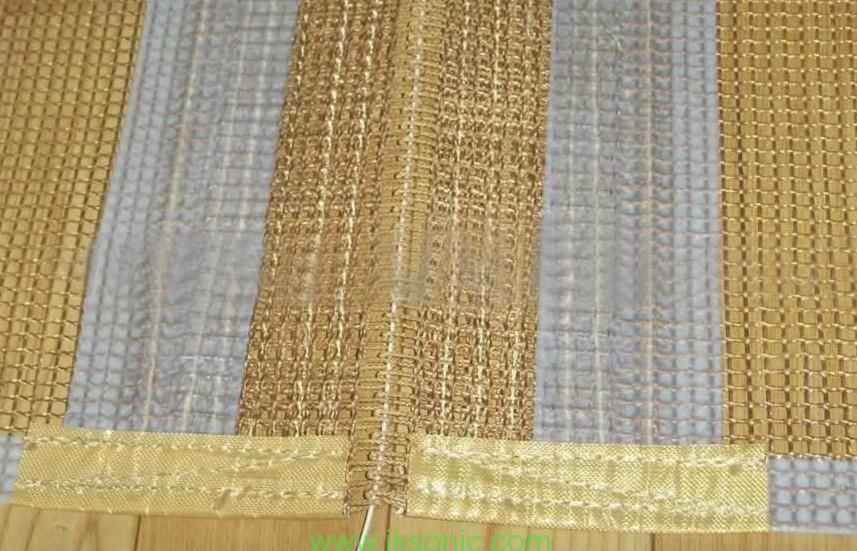 photo of 100%  Kevlar mesh conveyor belt from www.iksonic.com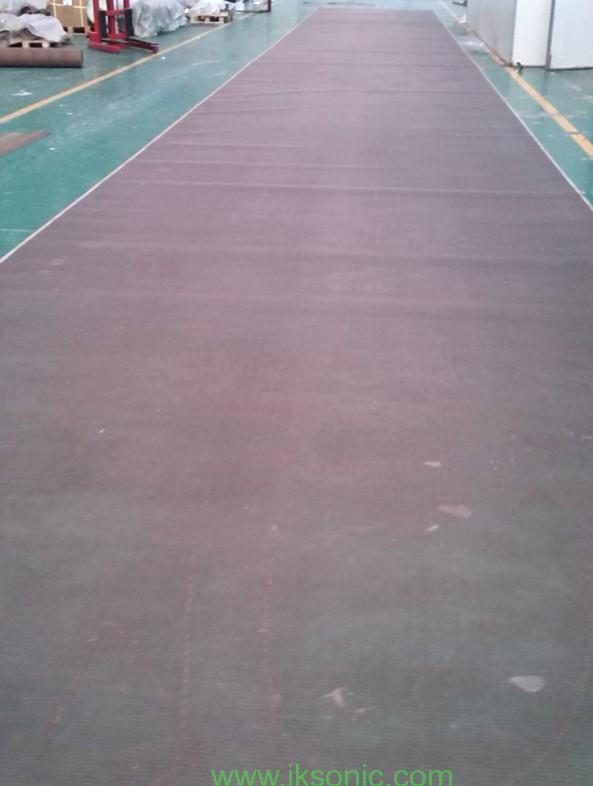 4 meters width kevlar mesh from www.iksonic.com  PTFE Kevlar Mesh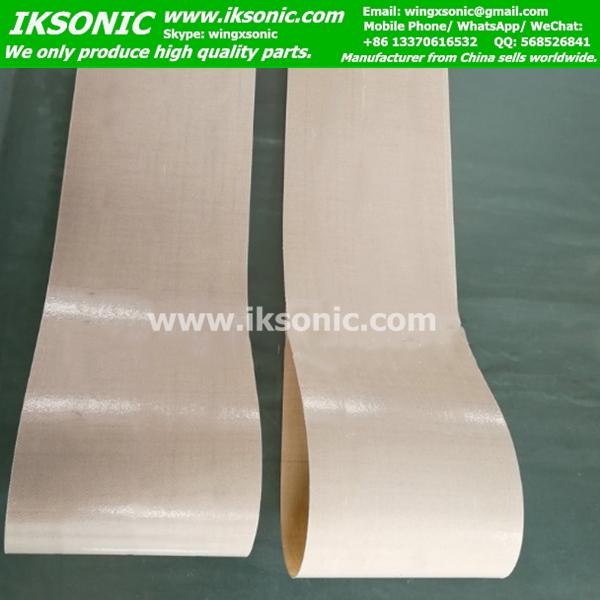 PTFE belt with Kevlar mesh inserted, Kevlar core reinforced.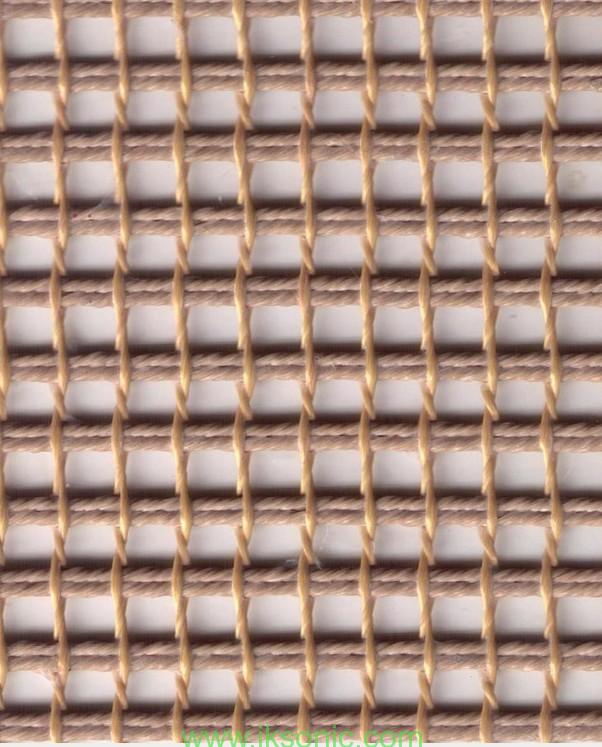 yellow Kevlar 50%  mesh from www.iksonic.com
PTFE Kevlar Mesh
Product Name: Teflon mesh belt, mesh conveyor belt
Production introduction:
Teflon mesh belt is PTFE (commonly known as plastic king) emulsion as raw material, made of fiberglass mesh impregnated with high performance, it is a high performance, multi-composite materials, new products, because of their excellent all performance, it is widely used in paper making, food, environmental protection, printing and dyeing, clothing, chemicals, glass, pharmaceuticals, electronics, insulation, wheel slice, machinery and other fields.
Main features:
1, for low temperature -70 ℃, high temperature between 260 ℃, with a weather resistant, anti-aging. The practical applications, such as high temperature at 250 ℃ for 200 days, not only the intensity will not decrease, and the weight is not reduced;
2, non-adhesive: easy to adhere to any substance. Attached to the surface easy to clean all oil, stain, or other attachments; glue, resin, paint, etc. Almost all the adhesive material can be easily removed;
3, chemical resistant, resistant to acid, alkali, aqua regia and various organic solvents.
4, good dimensional stability (extension coefficient smaller than 5 ‰), high intensity. It has good mechanical properties.
5, resistance to bending fatigue, can be used for smaller wheel diameter.
6, chemical resistance, non-toxic. Resistant to almost all pharmaceutical items.
7, fire retardant.
8, permeability — permeability conveyor belt to reduce the heat consumption, improve drying efficiency.
Main Applications PTFE Kevlar Mesh:
1: textiles, dyeing: printing drying, dyeing cloth drying, fabric shrinkage drying, non-woven drying drying tunnel, drying room conveyor belt.
2: Screen printing: pine-dryer, offset, UV light curing machine, paper, oil drying, ultraviolet drying, plastic products silk screen drying drying tunnel, drying room conveyor belt.
3: Other items: high-frequency drying, microwave drying, various types of food freezing and thawing, baking, packaging materials for thermal contraction, general moisture drying materials, flux type fast drying ink drying room conduction band.
4: Where romantic occasion require heat transfer and thermal processing conditions are suitable for use Teflon mesh belt.
Main Specifications of PTFE Kevlar Mesh:
Thickness: 0.2-1.35mm.
Width: 100-4200mm.
Mesh Size ( mainly 1x1mm / 4x4mm / 2x2mm / 0.5x1mm / 10x10mm)
Color: light brown (also known as brown), black.
Another: can set processing "Kevlar tetrafluoroethylene mesh" according to customer requirements
Common Specifications
| | | | | | | | |
| --- | --- | --- | --- | --- | --- | --- | --- |
| 牌号No. | 孔径hole size | 材质material | 厚度 Thickness | 克重 | 耐温Temp. | 最大宽幅max width | 抗拉强度strength |
| T-6001 | 1x 1mm | GlassFabric | 0.5mm | 390g /m 2 | -70 -260 ℃ | 4m | 1600/1500N/5cm |
| T-6003 | 2x 2mm | GlassFabric | 0.9mm | 470g /m 2 | -70 -260 ℃ | 3m | 2200/1500N/5cm |
| T-6004 | 4x 4mm | GlassFabric | 1.0mm | 500g /m 2 | -70 -260 ℃ | 4m(单纬黑色) | 2100/1500N/5cm |
| T-6007 | 4x 4mm | GlassFabric | 1.0mm | 480g /m 2 | -70 -260 ℃ | 4m(单纬) | 2100/1500N/5cm |
| T-6008 | 4x 4mm | Kevlar+GlassFabric | 1.2mm | 560g /m 2 | -70 -260 ℃ | 4m | 3300/2800N/5cm |
| T-6010 | 4x 4mm | GlassFabric | 1.0mm | 570g /m 2 | -70 -260 ℃ | 4m(双纬) | 2800/1580N/5cm |
| T-6013 | 4x 4mm | Kevlar | 1.0mm | 460g /m 2 | -70 -260 ℃ | 4m | 3500/3300N/5cm |
| T-6014 | 4x 4mm | GlassFabric | 1.0mm | 580g /m 2 | -70 -260 ℃ | 4m(双纬黑色) | 2800/1500N/5cm |
| T-6017 | 10x 10mm | GlassFabric | 1.0mm | 450g /m 2 | -70 -260 ℃ | 4m | 1100/1100N/5cm |
| T-6018 | 0.5x 1mm | GlassFabric | 0.5mm | 420g /m 2 | -70 -260 ℃ | 4m | 2200/1500N/5cm |