Hand made Silicone O-ring Bracelet Necklace Jewelry DIY -from IKSONIC Company.
Rainbow-colored silicone bracelets, with a variety of colors, can be prepared by  your own DIY, but iksonic also sells finished products, our company can provide the tools for your own DIY design.
Material: 100%  food grade environmentally friendly silicone rubber.
Soft and flexible.
Features: Durable, colorfule and DIY style according to customer demands.
Environmental Certification: non-toxic, environmentally friendly. Certificate By FDA, SGS, ROSH.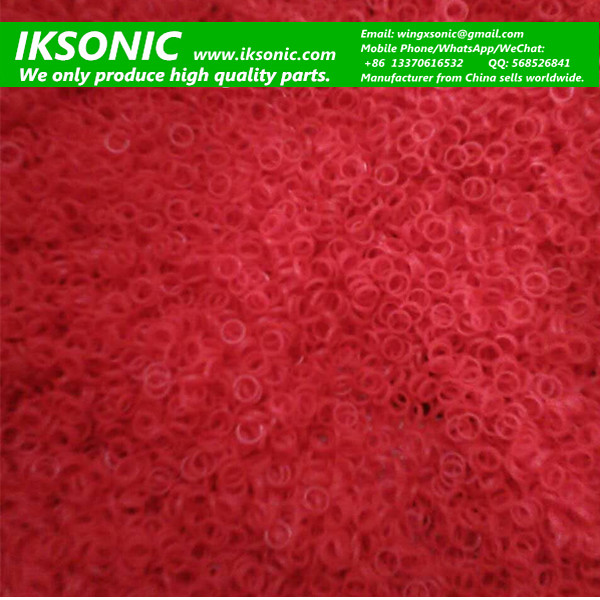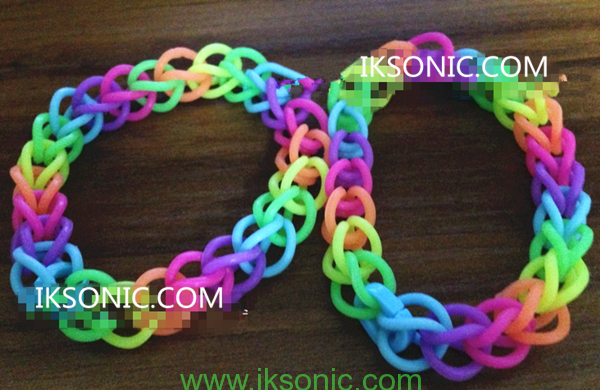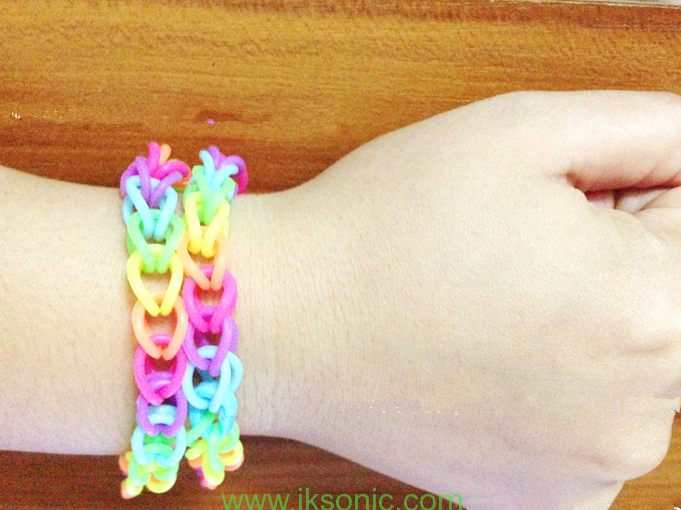 Malaysia's ethnic Chinese immigrant Wu Changjun invention rainbow loom (Rainbow Loom). Wu Changjun rainbow loom was originally designed to please his daughter, eventually attracting numerous American girls. Rainbow loom includes two plastic template, a crochet, 24 plastic pins and 600 mini rubber bands of different colors. With this set of things can weave 24 wristbands, patterns similar to traditional patterns of friendship bracelet used, but more complex, richer colors. This is a baby by diameter 15MM, width 2mm, 1mm thick silicone O-ring woven.
Silicone O-ring Bracelet for Adult may consist of 30 O-rings. But Silicone Bracelet for the young student Size 25 O-ring weave to be woven from the pro himself. Size due to their own preferences to be.
Operation fun, simple, fast, according to their own favorite color, each loop are connected together, then the S-type hook live and serve. You will love it.
Children can develop ingenuity and color matching, demonstrating their own, develop self-confidence, imagination, ability and color matching.
When put their own personality woven bracelet pretty certain very confident in the face of partners, so that small partners around envy, may be sent to the closest of friends, promote friendship, or friends and relatives together to knit. Both interesting situation but the hands, eyes, brain capacity to promote each other's feelings.
---
To get the best quotation,
please click the button to send an inquiry message to contact us: IKSonic team.
Sales manager: Gary Yuan
Email: wingxsonic@gmail.com
Skype ID: wingxsonic
WhatsApp/Mobile/WeChat: +8613370616532  , +8615315489052
WeChat: taishanfu
Mobile: +86-15315489052, +86-13370616532
Happy every day! *^_^*