IKSONIC manufactures elastomeric spring energised seals, PTFE Seals and sealing systems design.
Spring Energized Seals can be used in static, reciprocating and slow to medium rotary applications. Unlike other seals where you must produce your seal application around national standard size seals, IKSONIC company Spring energized seal can be manufactured according to your product with customized size. While standard size seals are something we make everyday. Used as piston seals, rod seals, or face seals, spring energized seals are engineered to meet your specifications and design intent exactly.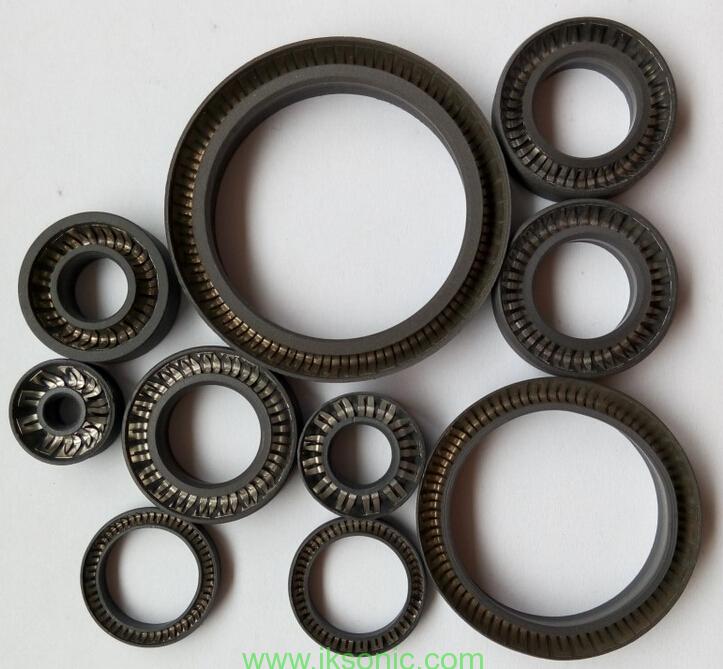 Spring Energised Seals factory in China Spring Ptfe seals + V Spring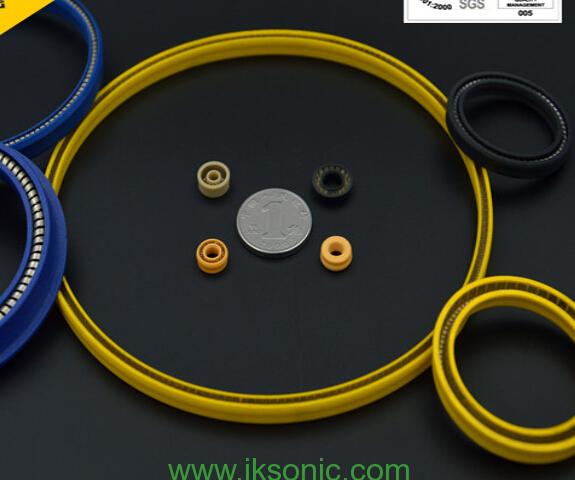 Filled PTFE spring seals teflon seals Spring Energised Seals factory
Spring Seal / Spring Energised Seals is a U-shaped Teflon built with high-performance seal special spring, the spring force plus the proper system fluid pressure, the sealing lip (surface) and gently press and hold the top of the sealed metal surface to produce a very excellent sealing effect. Spring actuation slightly eccentric effect can be overcome, and the mating surfaces of the metal seal lip wear, while continuing to maintain the desired sealing performance.
Teflon (PTFE) is an excellent chemical resistance than the perfluoro rubber, good heat resistance sealing material, can be applied to most of the chemical fluids, solvents, and hydraulic oil, lubricating oil, which is swellable They can play a small long-term sealing performance, using a variety of special elastic spring to overcome the problem of Teflon or other high-performance rubber, plastics, and the development of alternative applies to the vast majority of static or dynamic (reciprocating or rotary motion) seal, Refrigerant temperature range to be 300 ℃, pressure by the vacuum to ultrahigh pressure 700kg moving at speeds up to 20m / s, and the spring may be due to different use of the environment, made of stainless steel, Elgiloy Hastelloy, etc., it can be used in various high temperature corrosion fluids occasions.
Spring Energised Seals to follow AS 568A standard O-ring grooves (such as radial shaft seals, piston seals, axial face seals, etc.) production, completely replace the universal O-ring, because there was no swelling problems, it can be long-term maintain good sealing performance. For example, high temperature corrosion processes used in petrochemical environments mechanical seal, the most common reason for leakage in addition to uneven wear slip ring, the deterioration of the O-ring damage is the main reason, after the switch HiPerSeal completely improved rubber to soften, swelling, surface roughening, abrasion and other issues, and thus significantly enhance the mechanical seal life.
Spring Energised Seals Safe movement, in addition to the above-mentioned high-temperature sealing applications outside corrosive environment, because of its low coefficient of friction sealing lip seal contact pressure stability, resistance to high pressure, to allow greater radial deflection (radial run-out) and trench size error, it is very suitable for air hydraulic cylinder seals, replace the U-shaped or V-shaped packing to obtain excellent sealing performance and service life.
features of Spring Energised Seals :
Sealing performance is not starting insufficient lubrication effects
Effectively reduce wear and friction
Through different sealing materials and spring mix, may show a different sealing force to suit a variety of applications dedicated to CNC machining mechanism, no tooling costs – especially for a small variety of seals
Resistance to chemical corrosion and heat resistance than conventional rubber seals excellent dimensional stability, sealing performance no swelling or shrinkage of volume derived deterioration
Issue
Compact structure, can be installed in a standard O-ring groove
Significantly improve the sealing capability and service life
Inner seal groove can be filled with any stain material (such as silicone) – but not for radiation environment
Because the sealing material is Teflon, very clean, the process does not pollute the low coefficient of friction, even at very low speed applications is also very smooth, no "stick-slip effect"
Starting friction is small, even if down a long time or intermittent operation, are able to maintain low power performance from.
The main application of the Spring Energised Seals
Pan corked against a high-temperature corrosion, lubrication difficulties, low friction application environment and the development of special seals, different Teflon composite materials, advanced
A combination of engineering plastics and corrosion metal spring, fully meet the increasingly stringent industrial demand for diversity, typical applications such as under:
1, the loading and unloading arm rotating joint with axial seal
2, paint spray system valves or other seals
3, vacuum pump seals
4, soft drinks, water, beer filling equipment (such as filling valve) and food industry seals
5, automotive, aerospace industrial seals, such as power steering
6, metering equipment seals (low friction, long life)
7, other process equipment or a pressure vessel seals



Sealing principle:
PTFE plate spring combination U-ring plus a suitable spring tension system fluid pressure, the sealing lip and gently press and hold the top of the metal surfaces to be sealed to form a very good sealing effect.
Working limit:
Pressure: 700kg / cm2 Temperature: -200–300 ℃ line speed: 20m / s using the medium: oil, water, steam, air, solvents, pharmaceuticals, food, acid, chemical solution
click & send an product inquiry to IKSONIC team. Email: wingxsonic@gmail.com  Skype ID: wingxsonic    WhatsApp/Mobile/WeChat: +86-13370616532  , +86-15315489052    WeChat: taishanfu